As Viva Christmas Parties are approaching, we are reminded of the great things that can happen during Christmas. Joining World Vision's 12 Blogs of Christmas project, we are sharing how through true Christmas spirit, our networks gave San Salvador's children love, encouragement and empowerment to work together and send the government a powerful message.

How many of us wish that we could send a message directly to the government? That we could tell them the things we think are important and highlight what needs to change?
Well last Christmas, in a community playground in the heart of El Salvador's capital city, 400 children let the leaders of their country know exactly what was on their minds.
The setting for this extraordinary opportunity was a Viva Christmas Party, for which a group of local organisations and churches put on a festive celebration for San Salvador's children. They forged a link with the country's Ministry of Social Inclusion and together they developed the idea of allowing the children to send messages back to the wider government.
So amid the chaos of games, clowns, face painting and presents, a giant mural was created with hundreds of messages for the country of El Salvador. Every child at the party was encouraged to write or draw on the mural, which was delivered to the local government offices in the week following the party.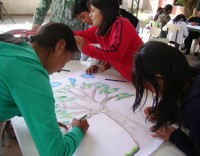 Despite their youth, the group seemed to have a pretty good grasp on the things that could help their country become a better place. Roberto, aged 12, wrote that "we should have no children on the streets" and nine-year-old Nancy wrote "let there be no violence and crime". Nubia, at only 11 years old, was very direct in saying "the President should do good things for the country" and a surprising environmental awareness was shown by Ramos, aged 10, when he wrote "Do not cut down trees, and you will have a better El Salvador. We must look after our country for the future" and illustrated his message with colourful forests and rivers.
Giving children a voice is just one of the things that go on at Viva Christmas Parties. Every year Viva invites thousands of children at risk across Africa, Asia and Latin America to attend a Christmas party in their community. For some it's the first time they get to celebrate Christmas in this way. The parties not only provide each child with a present, a full stomach and the knowledge that they are loved and valued, but also connect the children to local projects that can support them in years to come.
This year the Christmas parties are being held in 20 different cities across the globe, and Viva would love to be able to invite as many children as possible. If you would like to help a child at risk go to a party this Christmas, take a look at www.viva.org/christmas Whether it's holding your own Christmas party, doing your gift shopping through Viva, downloading a special festive song from iTunes, or just sending a text message, there are many ways you can use your Christmas to give a child an unforgettable one.
This article was also published in Christian Today on 21 Nov.